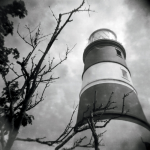 Alighting Shores is a series of unique site-specific lighthouse performances imagined by Gaelin Little. Performance project currently under development, Alighting Shores stands as a lighthouse tour, the performances of which will always adapt to each lighthouse's distinctive architecture, creating an immersive and intimate experience for both the performers and audience.
Travelling from one lighthouse to the next, Alighting Shores' performances will stand as a mapping process, connecting the landmarks of different coasts and countries, in England and further afield.
Alighting Shores is an innovative project piloted in 2013 with Disappearance at Sea, a performance in and around the iconic Happisburgh Lighthouse (England), thanks to the support of the Norfolk County Council and the Rebecca Skelton Fund. Disappearance at Sea's video trailer is available here.

"I was transported in a more meaningful landscape"
Matthieu Delattre – in response to Disappearance at Sea.